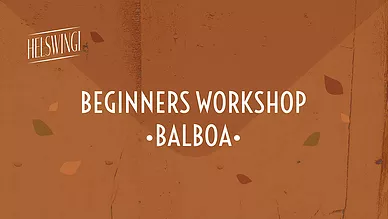 23 of September
Sunday
15:15 - 18:45​
3h total
Join awesome Riikka Väänäkoski and Mikko Väänäkoski for full 3h of Balboa Beginners.

About this course

This workshop will give you all you need to hit the social Balboa dance floor. You will get a notion of both types of Balboa, Pure Bal and Balswing. The course is also an excellent chance to recap your previous knowledge or change your dance role.

If you will be attending the Balboa track during Helswingi without or with little previous Balboa knowledge, this course gives you the base to fill the minimum requirements. You have a spot guaranteed until the 30.8. Registration for the workshop is also open for everyone else.

Requirement: One year of experience in any swing (or comparable) dance.

Duration: Sunday, 23.9., 15.15-18.45 (includes two breaks)
Location: Saiffa - Flow Mo Dance School, Lönnrotinkatu 25 A, 2. kerros, 00180 Helsinki
Price: 40€

About Balboa

This dance was born in California in the second half of the 1920's. The music of choice for Balboa is uptempo swingmusic. Balboa was danced in crowded ballrooms, which led to most of the dance to happen in closed position focusing on sophisticated partner connection and fancy footwork. That form of the dance is nowadays often referred to as Pure Balboa. With time dancers started opening the closed position and integrating flashy moves: Balswing was born. Balboa challenges dancers with complex footwork and rewards them with a beautiful connection and a floating feeling.

About the teachers

Riikka started dancing Lindy Hop in 2006 which was soon followed by Authentic Jazz and Balboa, teaching and other sorts of swing-connected craziness both in Finland and abroad. Today, Riikka teaches Lindy Hop and Balboa in Helsinki. She loves teaching people how to dance in rhythm and in control while having an awesome time with one's partner.

Mikko fell in love with swing dances in 2004. He started teaching Lindy Hop in 2007. Balboa and Authentic Jazz followed in a couple of years. Mikko loves the freedom of experimentation with rhythms and movements in swing dances and enjoys teaching people about rhythm and connection.

Together they are one of the most requested teaching couple in Finland.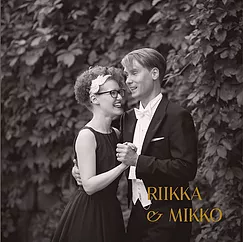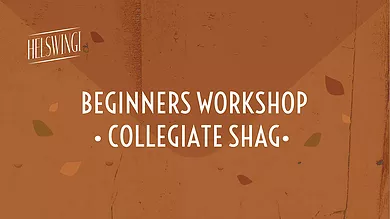 22 - 23 of September
Saturday and Sunday
12:00 - 14:15​
4h total
Join the energetic couple, Katharina Matkevich & Johannes Gustav Varkki , from Estonia for a weekend of Beginners Collegiate Shag in Helsinki.

About this course

In this course, you will learn basics of Collegiate Shag. You can also attend to recap your previous knowledge.

If you will be attending Collegiate Shag during Helswingi without or with little previous Shag knowledge, this course will give you the necessary base. You have a spot guaranteed until the 30.8. Registration is also open for everyone else.

Duration: Sat/Sun, 12:00 - 14:15 (4h total + 15min break)
Location: Grundskolan Norsen, Unionsgatan 2, Helsinki
Price: 50€

About Collegiate Shag

Collegiate Shag is one of various historical shag dance forms which became popular in America during the 1920-1930s. The fast footwork and energetic style, as well as a hilarious, easy-going attitude, are the probably most remarkable characteristics of the dance. Shag was originally danced to Ragtime but it was adapted other styles like swing and R&B music. The tempo scale ranges from mid-tempo to upper tempos. Shag can also provide Lindy hoppers with some new ingredients for their dancing.

About the teachers

Katharina and Johannes Gustav are dance teachers at Tallinn Swing Dance Society, where they regularly give Lindy Hop and Collegiate Shag classes.

Technique, connection and leading-following spiced with room for improvisation and cheerful mood of Shag - are the most important aspects for them.

Making a strong emphasis on musicality, energy and creativity, their dance style is smooth, precise and often unpredictable.
Both being passionate and tireless dancers, Katharina and Johannes visit as many festivals as possible. They also like to perform and take part in competitions, yet social dancing is where the heart is.

So, join their class and get inspired by the joy of Collegiate Shag!