MC
Did you know that Finland was chosen as the happiest place to live in this year by the UN? While most Finns might feel that this is ludicrous and just want to be quiet and left alone pouting during the dark and cold winter months, when around this man, our beloved MC Handsome Han, one can easily believe that this might very well be the case and the midsummer party never ended!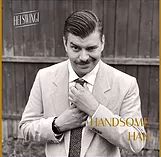 has been passionate about swing music and dancing for more than 15 years and has been DJing for lindy hop, balboa and shag dancers at many international events since 2008. His music tastes are pretty broad - wide range of tempos and styles with music chosen to keep the floor full and energy in the room high. Kestas always brings joy for beginners and experienced dancers on the dance floor.

is a swing music & dance addict with over 20 years of experience playing several music styles. He'll be spinning the finest selections of classics, rare finds and some of the freshest new releases from his ever growing vinyl record collection.

Driven by a love for The Jazz Age (Ages of Jazz) dance and music, as well as the whole culture that surrounds it, Lord Arnas represents exceptional quality DiscJockey services - Rhythm Lord Brothers - who are committed to ferry their listeners a century back, to a time where a party was no paltry matter and a swinging dancer's feet were never allowed to stop… ever.

a pretty obsessed consumer of Jazz music. Mainly sticks to old recordings from 30's-50's but also take occasional detours to newer swing bands, R'n'B or Soul. She loves exploring the production of jazz musicians profoundly and always plays her latest findings to the dancers.

loves to see you swing out hard or shuffling along to great swinging music. He's always on the lookout for new gems between old and new recordings and looks forward to keep the Helswingi dance floor swingin to your pleasure.

BANDS
Antti Sarpila Swing Band

Antti Sarpila (clarinet and saxophones - composing and arranging) is one of the few internationally known jazz musicians from Finland. He has been a student of the world famous American clarinet and saxophone player Bob Wilber during the 1980's. Wilber himself was a student of legendary Sidney Bechet in the 1940's. This legacy is the reason for Antti's dedication and respect to the traditions in jazz. He wants to combine the influences captured from the early masters, from Louis Armstrong to Charlie Parker, with his own personal style to create, what would today be described as classic jazz.

During his career, Antti has performed on numerous jazz festivals and concerts around the globe and has had the honor to play with such late giants as Wild Bill Davison, Vic Dickenson, Panama Francis, Jake Hanna, Thad Jones, Dave McKenna, Joe Newman, Marshal Royal and many more.

In Finland Antti has his own group, the Antti Sarpila Swing Band, which celebrated its 35th anniversary in 2017 and released over 10 albums.


Read more about biography and recordings

​

Antti Sarpila Swing Band

Antti Sarpila - clarinet and saxophones

Janne Hovi - piano

Wade Mikkola - bass

Keith Hall - drums

Reunion Big Band feat. Aleksi Aromaa

Welcome to celebrate the golden era of swing music! Enjoy the finest big band tunes and dance like there are no classes tomorrow. For the Saturday party Reunion Big band will join their forces with the talented vocalist Aleksi Aromaa. Together they will treat you with legendary swing songs of Count Basie, Duke Ellington, Frank Sinatra, and many more.

​

With 18 talented musicians, the performance is going to be sweet honey for all jazz and swing music lovers. As a frequent performer at swing dance events, Reunion Big Band knows how to satisfy the taste of Lindy hoppers, bal dancers and shaggers alike. Let's swing it!


The band has been reunited since 2003. Reunion Big Band conductor (trumpetist and composer) is Martti Vesala.


Aleksi Aromaa, a.k.a. Sinatra of Hämeenlinna, is a singer, actor and musician currently working for Hämeenlinna City Theatre. As a singer, he is especially known for his wide register and emotionally powerful interpretations. Aleksi has worked with a variety of bands and orchestras, most recently with Sir Elwoodin Vieraskirja band and Local Voices collective. Aleksi Aromaa is a graduate of Complete Vocal Institute in Copenhagen.


Acoustic Dixie Six

Acoustic Dixie Six was founded in 1999 in Helsinki. Many of the original members had played together in various jazz ensembles and shared a common vision of a real Traditional Dixieland Band. The mission of Acoustic Dixie Six has since then been to play happy jazz with traditional instrumentation, authentically and well played, with respect for tradition but leaving room for improvisation.

The band's instruments represent the traditional New Orleans setting with trumpet/cornet, clarinet, trombone, banjo, tuba and drums/washboard. The instrumentation plays a key role in producing the authentic sound, which the band feels is essential in creating the original Dixieland experience.

The band focuses on the 1900-1930 Dixieland era jazz tunes composed for the typical New Orleans instrumentation. Instead of just settling for realbook standards such as Bourbon Street Parade or Bill Bailey the band has explored a wider repertoire transcribed from the old 78 records from those days. Improvisation plays a key role in the performance, although some previously agreed breaks, tags and licks make the tunes more enjoyable, especially for the band itself.

Based in Helsinki, the band practices and plays in the greater Helsinki area during winters, but likes to tour Finnish jazz festivals during the summer. The band likes touring Eastern Europe because of its enthusiastic audiences and cheap beer and has so far played for audiences in Poland, Hungary, the Baltic Countries and (Eastern) Germany.

​

Acoustic Dixie Six

Niklas Andersson – Trumpet

Bengt-Ove Fagerhed – Trombone

Olli Salmi – Clarinet

Petri Tötterman – Banjo

Marcus Weckström - Tuba

Samu Laiho - Drums




Friction Swing

Friction Swing is a home-grown, Helsinki based swing music band. The semi-pro ensemble started playing together in 2017 with high ambitions. The line-up includes international musicians, singers, and music enthusiasts. The band has always been tightly connected with the Swing dance scene in Finland and regularly performs for Swing dancers in different settings. For example Friction Swing has been hosting numerous Swing jam sessions during dance events in Helsinki. The band plays all the "classic" jazz standards with just a touch of modern jazz. Friction Swing will perform with Eddy White and Caroline Moinel during the Sunday party.

Eddy is an Australian performer singing traditional and modern jazz. His vocals and vigour add an entirely new dimension to performances. Caroline is a relatively new singer and swing dancer from France. She fell in love with music at an early age and joined a local music school where she played piano and percussion instruments. After singing at a Helsinki jam session, she became hooked and frequently performs with Friction Swing as a guest vocalist.